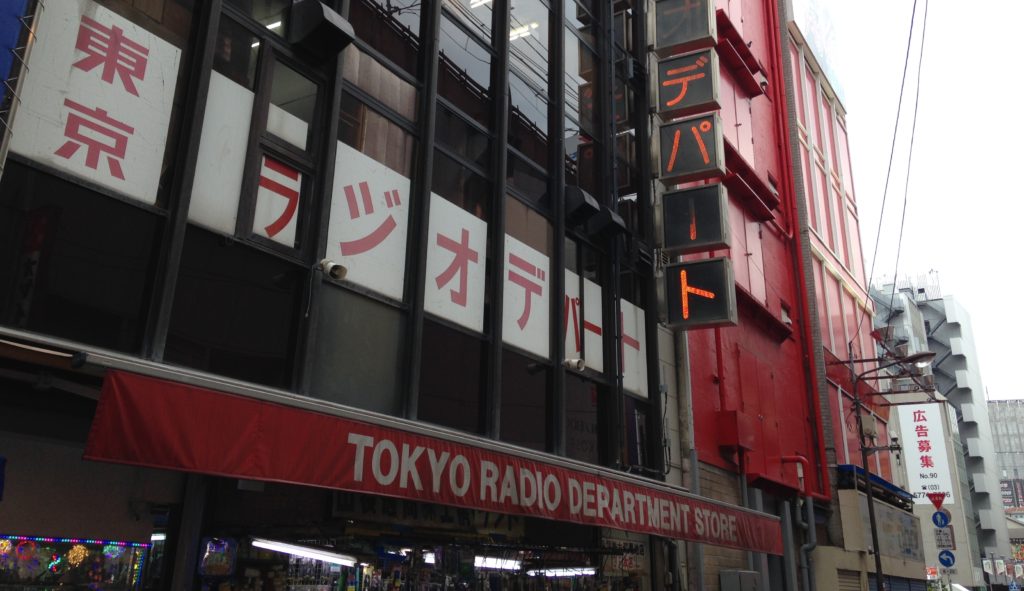 Like many others, I have been interested in visiting Japan and experiencing some of the culture. So recently, I decided to finally take a trip there. There is so much to write about Japan. So much so that condensing my two short weeks of visiting the country into one short blog post will be next to impossible. From its populous vending machines to cat cafes and lush green islands to concrete jungles, if a complete sensory overload is what you're looking for then consider paying a visit to Japan.
Today however, I want to talk about Tokyo's electric town or Akihabara (aka "Akiba") – home to otaku culture, arcades, maid cafés and electronics. While not as prominent as the famous electronics markets of Shenzhen, there are a significant number of shops that range from selling consumer goods to selling individual components. Out of all the electronics shops that I found however, the Tokyo Radio Department Store was by far the most interesting one to me.
Parts, Parts and More Parts
Located in the heart of Akihabara next to retro games store, Super Potato, the Tokyo Radio Department Store is a multi-storey building that sells electronics components, test equipment and electronics kits. Unlike its neighbouring buildings that tout crane games, kawaii plushies and thumping music, this store is rather quiet with a smaller number of people wandering the cramped aisles. Storefront staff sit behind walls of replacement cables and probes chatting away with other people or looking at their phones under the dim, greenish-white fluorescent lights.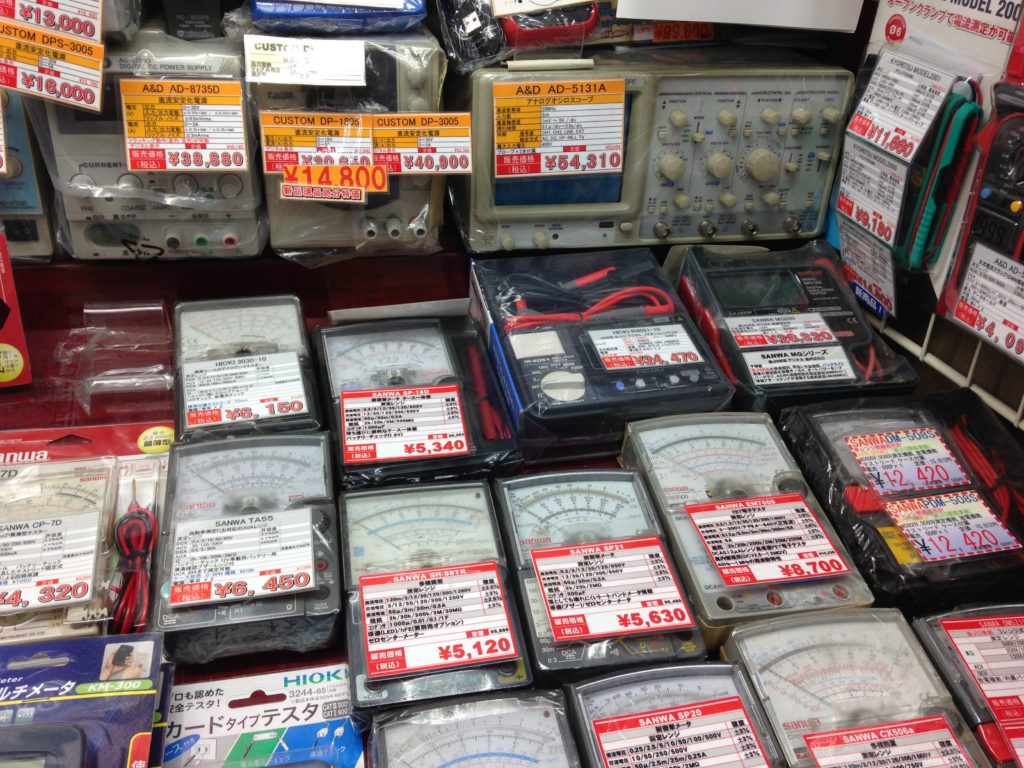 Floor one is home to all sorts of test equipment. The familiar analog multimeters that many of us grew to love at some point in our lives can be found here. Cathode Ray oscilloscopes and power supplies sit wrapped in plastic packaging waiting for someone to adopt them for their lab benches. A small space closer to the store entrance is reserved for a limited selection of old Super Famicon games and consoles while an escalator at the centre of the floor invites you to climb upstairs explore more…
The arrival onto the second floor is marked with a flash of colourful LEDs at one storefront – a good sign that lots of goodies can be found here. Shelves with all sorts of switches invite you to press, flip and toggle them. Many of the switches also light up after that satisfying click of the actuator. Switches like these make you want to have a giant box full of them that you can play around with. Not far from the switches are shelves with an assortment of capacitors, relays, resistors and potentiometers.
In one corner of the floor lives a small glass display case housing all sorts of ICs – some in production and others discontinued.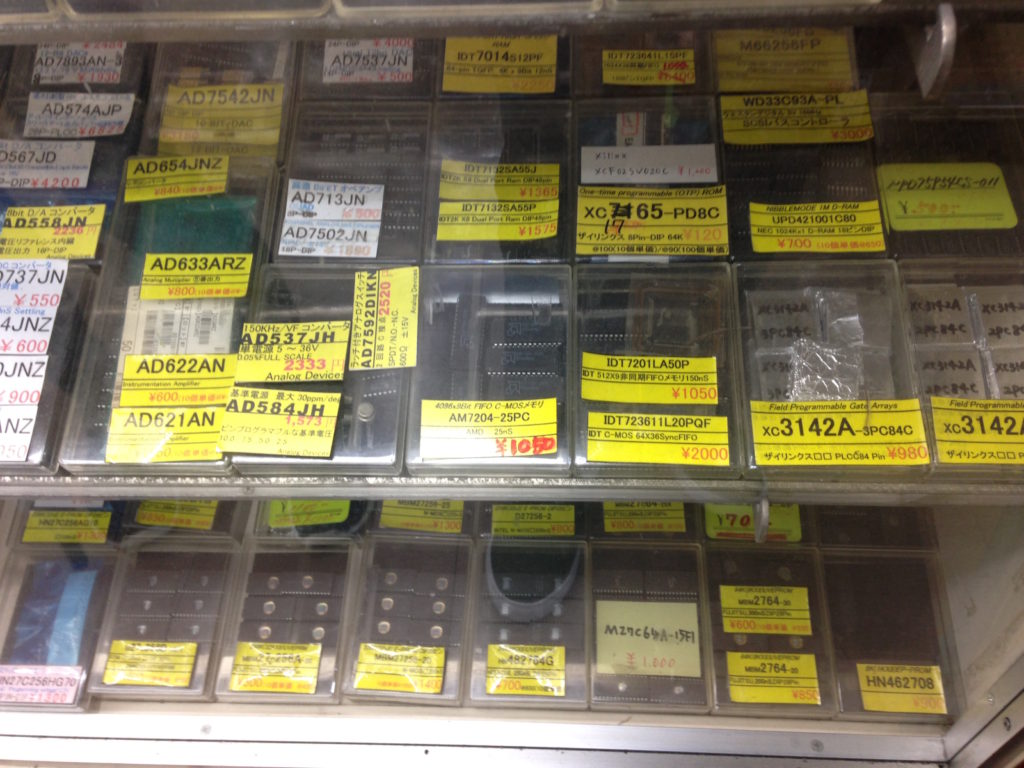 Some of the ICs shown here are DACs, multipliers, FPGAs, voltage-to-frequency converters and op-amps. The ICs found near the bottom are presumably EPROMs of some sort which require a UV light source to erase its contents (hence, the circular glass windows on them). A very interesting IC is the AD558 found in the very left of the above photo. It is a 8-bit DAC and it could perhaps be useful in reproducing sounds of older gaming consoles…
Moving onto the next floor reveals yet more components but of a different kind. Here, batteries of all kinds are found ranging from common AA alkaline cells to lead-acid batteries. Various Li-Po and coin cell batteries also live in the mix.
Rotating shelves bunched together near the middle of the floor hold some neat electronic kits where one can build a voice changer and an FM radio.
The department store holds far more goodies than the ones shown in this post. Smaller stores that sell electronic components, some of which who sell only one kind of component, can be found scattered throughout Akihabara. To learn more about Akihabara, I encourage you to read some of the articles on Hackaday. If you plan on making a trip to Tokyo, consider visiting this part of the metropolitan area.