A few weeks ago, my sister and I took a trip to the Wapiti Music Festival in Fernie, BC (which, by the way was lots of fun). On the drive back to Edmonton, we found an antique shop in a quaint little town about 50 km South of Calgary called Nanton.

Knowing that inside most antique stores is an elderly lady in a rocking chair preciously guarding vintage silverware with a double axe by her side, we had some Werthers Originals on hand to give as an offering in exchange for exploring through her piles of LIFE Magazines from the 1940s and Simon and Garfunkel Records. HOWEVER, little did I know that I would soon be finding a treasure.

I'll cut to the chase. Here's what I found…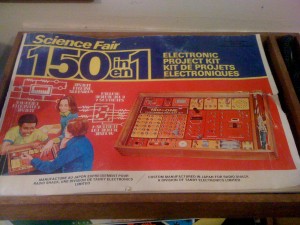 An old school electronics kit? Well, that gets my attention! I didn't actually find out the age of this thing so doing a little bit of interweb research showed that these kits were made around the '80s. Here's a commercial I found:



Here's a look at the actual kit: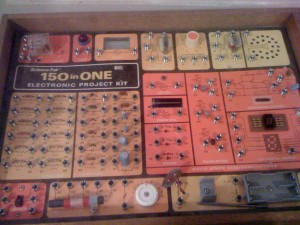 Aside from the resistors and capacitors, the kit also features diodes, transistors, an "IC" of some sort, a potentiometer, a voltmeter, a relay and even a seven segment display. Also included was a nice booklet filled with a variety of projects:




The above picture shows a schematic for the "chirping bird" circuit. I don't actually know how it works, but I suspect that it's a variable high frequency oscillator with the CdS photoresistor activating the transistor once enough light shines on it. If anyone knows how it works please leave a comment!

What I found very interesting was that most of the diodes were made with Germanium instead of Silicon. Understandable I suppose since some of the projects were in the RF range. I suspect that the transistors used were also made with Ge as well.




I apologize for the terrible image quality. I didn't have a proper camera handy and had to resort to using my phone instead. Anyways, There were labels "Ge" and "Si" near the right of the diode symbols. What I also found interesting was that the Si diode was this blob of what I imagine is epoxy instead of the nice cylindrical casings we see today.

This kit was a bit before my time but from doing a little digging around, I found out that this kit was apparently a big deal. It's really neat to see the change through time when comparing kits like these to kits today where they are more microcontroller based (just like this).

---
Edit: I asked Dave Jones from EEVBlog if these kits were sold in Australia…turns out they most certainly were and he was actually given one of these very kits (200 in 1 Kit) when he was a kid! Cool! He has an EEVBlog episode where he talks about this kit and how he got his start in electronics which you can find here. Also, APPARENTLY, these kits are still being made.