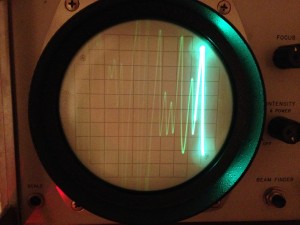 What you see above is the first breath of the seismometer – which is currently detecting my foot taps.
A geophone by itself isn't really all that useful. Once you apply some power, the raw signals will usually be too weak to do anything useful. This is why we attach a conditioning circuit which filters and amplifies the geophone signals. The geophone used here is the SM-24 geophone made by SENSOR. I've sent off an email to them asking if they had any application circuits that I could reference from but I haven't had a reply from them yet and I'm doubtful I'll ever get one. I was, however, able to find an example circuit which provides a pretty good start to building such a conditioning circuit.
I was amazed at how sensitive the geophone was. It was able to pick up footsteps from the neighbors upstairs and even cars driving by. A friend who used to work in geophysics mentioned to me earlier that some data from geophone arrays would be problematic because of deer that walked nearby. After seeing this circuit at work, I have no doubt that walking animals would greatly affect a seismometer.
There are a few problems with the circuit at least, for this particular appliation but I will be talking about that in a later, lengthier post. For now, we can enjoy the geophone's "Hello, world!"